Support Highland Montessori School
Letter from the Director | Board of Directors | Teacher Team
Among our many milestones in 2014, Highland Montessori School received 501(c)(3) non-profit status. As such, we do seek and welcome public support. Watch this video about our school and our funding goals.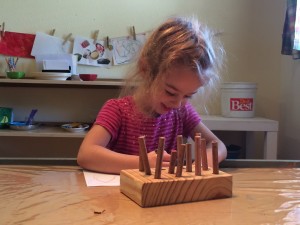 Any donations will help us accomplish these three objectives:
to establish a scholarship fund for families in need
send our teachers to great trainings, including Montessori conferences
bring in quality speakers for teacher and/or parent workshops
If you would like your donation to go directly to any one of these goals, just let us know your wish.
As a thank you for supporting HMS, donors $200 or more can inscribe a 8″x 4″ brick at the gated entrance to our playground.
How can you donate?
You may donate online through PayPal with the below button
Send a donation directly to school at the below address
Call or email the HMS Executive Director, Rick Weller (info below), to discuss other ways to donate and ask any questions about HMS and how donations can be used.
You may request our recent Financial Statements by contacting Rick Weller, Executive Director, at the below number & address.
Our donors' information will always remain confidential. Only the Executive Director, School Director, our accountant and and (maybe) the Board of Directors will have knowledge of any donations. Donor information will never be shared with or sold to third parties.
Highland Montessori School
211 W St Johns Ave
Austin, TX 78752
512-554-2133
Email learn@himontessori.com
When you shop, HMS benefits

When you do your regular shopping on Amazon, be sure sure use the Amazon Smiles program, and Amazon will donate (yes, donate!) 0.5% of the cost of your purchases to HMS, at no cost to you. Just use this link when you shop, or choose Highland Montessori School when Amazon prompts you.
You can shop for us! Buy from our Wish List on Amazon.


From October to December, when you shop online at For Small Hands, Highland Montessori can benefit. This site has Montessori-inspired children's products including tools, instruments, crafts and many more gift ideas. When you check out, you will be asked "Do you want to credit a school?" Enter our code: 395140. Since we are new to their system, the code may not work yet, in which case in the comments or message section, you can enter "Please credit school # 395140."