Our butterflies
Tuesday, Feb 16: We released the butterflies to nature this morning, and all five flew away!
Saturday, Feb 13: While at school this afternoon, Rick noted the last butterfly has emerged! It's the smallest of the five.
Wednesday, Feb 10: This morning we arrived to the third butterfly and the fourth, the smallest one yet, secretly and quickly emerged during our morning work time.
Monday, Feb 8: This morning, while the room was full but no one was watching, the second butterfly snuck out of its chrysalis.
Friday, Feb 5: At nap time, the first butterfly emerged! For the first 24 hours or so, they don't move around or even eat while their wings dry out. By Saturday, it had moved to the orange in the aquarium and started eating (photo below).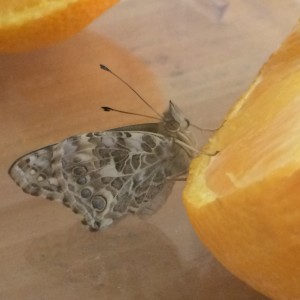 Tuesday, Feb 2: We arrived this morning to see the fifth chrysalis! Just one more caterpillar crawling around….
Sunday, Jan 31: On Saturday, the third and fourth chrysalis were completed.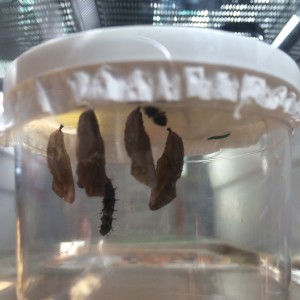 Friday morning, Jan 29: It has been two weeks since our little caterpillars arrive, and the second chrysalis is complete (on left in photo below. It took longer than the first one (on the right). Two more are on their way (foreground and background)–we know this because they make a "J" shape before forming the chrysalis. There are two more caterpillars inching around, one of whom is on the far right in the photo below.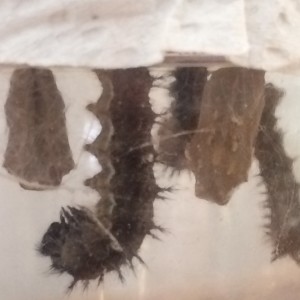 Wednesday afternoon, Jan 27: we watched the second caterpillar chrysalis forming–it does an upside-down twisty dance!
Tuesday, Jan 26: the first chrysalis formed overnight last night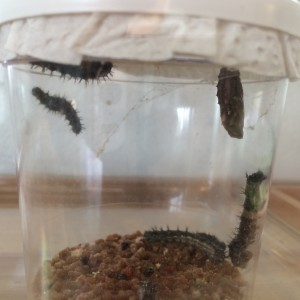 Friday, Jan 15: the small caterpillars arrive at HMS. In a few weeks, they will be painted lady butterflies.